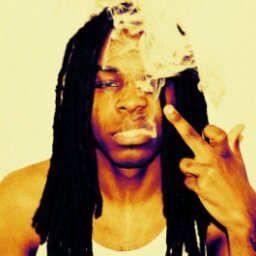 With everyone now a days' thinking they are the next big thing, there is no doubt in my mind that Orlando, Florida native Prince Greg will be big. His intricate lyrics and real world experience, reflects everything that a young black male thinks about or wants out of life. His intriguing titled mixtapes give the listeners just a preview of what type of person he truly is. Prince Greg states his claim as Rap's next king with his EP Release of "More Than a Man" And if I can remain true to myself and be frank he has various songs that will draw the listeners in and really make you check for the next song, and the next song. So from a Prince he shall be King from what I have sampled and listened to.
After releasing his last mixtape "Eagle Wings" earlier last year in March and landing on HotNewHipHop.com's Heatseekers [Edition 11], Prince Greg keeps the ball rolling with his "More Than a Man" EP "More Than a Man" serves as a lead up to Prince Greg's upcoming mixtape
"Less Than a God 2"
and his newest EP release. The EP is straight to the point showcasing his aberrant & lucid lyricism, in his own words, Leave it to him to tell you why this upcoming EP is going to be worth the hear Prince Greg said "it shows why I'm up next."
On "More Than a Man" Prince Greg mostly carry's the rapping torch by himself, but brings along his compadre's Big Trin & BoGODY to take turns trading verses on the infectious tracks "Way Too Young" & the luxuriant "Real Nigga Party". His Production finds itself ranging from EDM-Rap infused sounds to sample driven hip hop gems with credit to DJ Mustard, Cardiak, 1500 Or Nothin, The Futuristiks, @firehotbeats, Blood Diamonds, Bink & Yung Berg. Prince Greg shows immense drive and with continuous grind I wouldn't be surprised if in the next few months his career just takes off like a jumbo jet.
Below I dig deep into who the artist known as Prince Greg is and I find out what really inspires his music, why he named his mixtape MTAM and his process of picking songs for his mixtapes. I hope you guys enjoy the Q & A
Q & A WITH PRINCE GREG:
1.WHAT INSPIRES YOUR MUSIC?
Prince Greg : "What inspires my music is my life, my thoughts, the people I care for and everything I've been through for the most part. But also my desire to be great inspires me because at the end of the day when I'm in that grave my accomplishments will determine the imprint I made on the world."
2. WHEN DID YOU KNOW THAT YOU WANTED TO RAP?
Prince Greg : "I would always freestyle and play around with rapping from the age of 4 years old but I'd say about 6-7 years ago it grew from just a hobby to what I live for. Also just being influenced by the music and the artist of that era like Dipset, Lil Wayne & Lloyd Banks gave me a different perspective on rap from what I was use to in Florida's music scene and helped me cultivate my style."
3.HOW LONG DOES IT TYPICALLY TAKE YOU TO FIND THE RIGHT SONGS FOR YOUR MIXTAPES'?
Prince Greg : "On average I'd say it takes me 2-3 months to find the right songs for my projects. Writing and creating for me is a never ending routine but my projects usually spawn out of 4 or 5 tracks that I feel strongly about and then I build on-top of that. Along with that finding the right production for the feel and vibe of the project I'm creating plays a key & essential part in the process."
4. WHY DID YOU PICK MTAM AS A NAME FOR YOUR MIXTAPE? DID YOU HAVE OTHER CHOICES?
Prince Greg : "More Than A Man was chosen as the title because it's where I feel I am skillfully at amongst the music I hear in today's music climate. It also coincides with another mantra I love which is also a mixtape series of mine called 'Less Than A God'. I feel that when it comes down to bars & the quality of music being created I am ahead of the pack so I am "More Than A Man", but I've yet to receive the accolades to match the skill I possess so that makes me still 'Less Than A God'. But best believe I'll reach that God status, just watch me."
Connect with Prince Greg Below:
Management:
Moneybusinessmusic@gmail.com